Talks of forming an air bubble between Japan and India have been in process since the beginning of 2021. On 4th March, Air India had made an announcement that from 30th March to 29th October, they will start operating three flights weekly.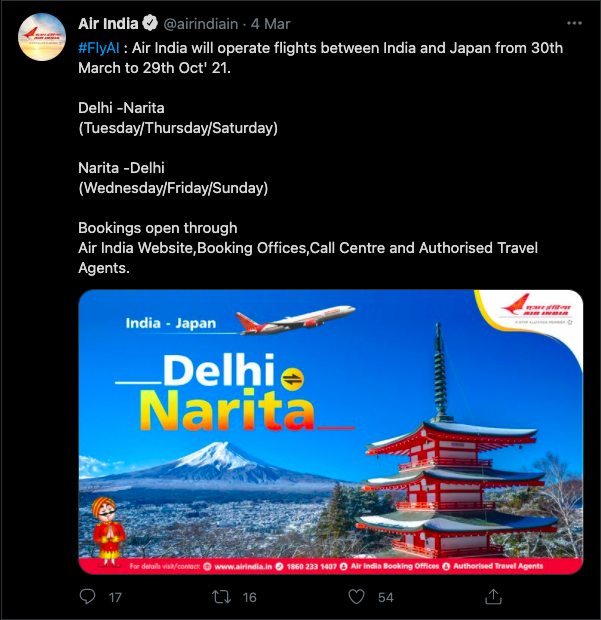 Despite being in the middle of a second wave, on 10th May Vistara tweeted that they are going to start Delhi-Tokyo flights from June 16th under the air bubble agreement.
Vistara said it will use its Boeing 787-9 Dreamliner aircraft with three-class cabin configuration to serve the Delhi-Tokyo route.

According to the data of the Civil Aviation Ministry, the last few weeks saw the number of domestic air passengers per day drop from the peak of more than 2.2 lakh to around 75,000.
The India Japanese Air-bubble:
According to the India-Japanese air bubble, carriers of the two nations are now permitted to operate services for the following categories of people between India and Japan:
A. From India to Japan
1. Stranded nationals/residents of Japan and foreign nationals who have valid Japanese visas and are subject to the travel restrictions and border measures enforced by the Japanese Government during travel; and
2. Indian nationals who have any type of valid visa from Japan and are subject to the travel restrictions and border measures enforced by the Japanese Government during travel. The concerned airlines are to ensure that Indian nationals have no travel restriction to enter Japan with the particular visa category before issuing a ticket/ boarding pass to the Indian passenger.
B. From Japan to India
1. Stranded Indian nationals;
2. All Overseas Citizen of India (OCI) cardholders having Japanese passports; and
3. Foreigners (including diplomats), who hold valid visas issued by an Indian Mission in any category covered under Ministry of Home Affairs (MHA) guidelines dated 30.06.2020 as amended from time to time.
What this means for the future of Tourism between India and Tokyo:
According to JNTO data, the number of Indian travelers to Japan had more than doubled from 69,000 in 2012 to 1.76 lakh in 2019.
Ever since news of the India-Japan air bubble spread, our analytics have shown an increasing interest in Japanese tours and packages. You can especially see a pretty clear jump from April to May.
Japan is currently going through a fourth Covid-19 wave and India is going through its second wave. Needless to say, right now both borders are closed.
However, the interest that Indians have shown towards Japan show that once the waves are controlled and subside, the travel scenario will flourish pretty soon.
In that event, as travel companies, here are few things to keep in mind:
1.       Honeymoon packages: One of the most visits to our pages we've had is our Japan Honeymoon package for 8 days. Honeymoon packages are likely to sell a lot right after Covid-19 is contained.
2.       Multi-day packages of "not-to-be-missed" places: With things going the way they are, there is a probability that not all the attractions will be open for tourists by the time Tourism does start. In such a case, multi-day packages that cover most of the open famous attractions will be the best option.
---