Thrillophilia and the Abu Dhabi Tourism Board have entered into the third year of their partnership. Thrillophilia has been working closely with Abu Dhabi to position it as one of the most desirable travel destination.
With the key initiatives taken over the past two years, Thrillophilia has seen a rising demand for Abu Dhabi amongst Indian travelers. This demand is due to various factors, such as its modern attractions and experiences, and the availability of various adventure activities, gastronomical experiences, luxury, culture & heritage and so much more. Focused on leveraging this demand and attracting more Indian travelers to Abu Dhabi, Thrillophilia and the Abu Dhabi tourism board  have renewed their partnership.
Under this collaboration, Thrillophilia will endeavor to create, curate and promote unique and innovative travel experiences, through a range of holiday packages to showcase Abu Dhabi's many offerings to various types of audiences, including Honeymooners, Bachelors, Millennials, GenZ, and Families. Additionally, the partnership also seeks to position Abu Dhabi as an ideal weekend getaway destination from India.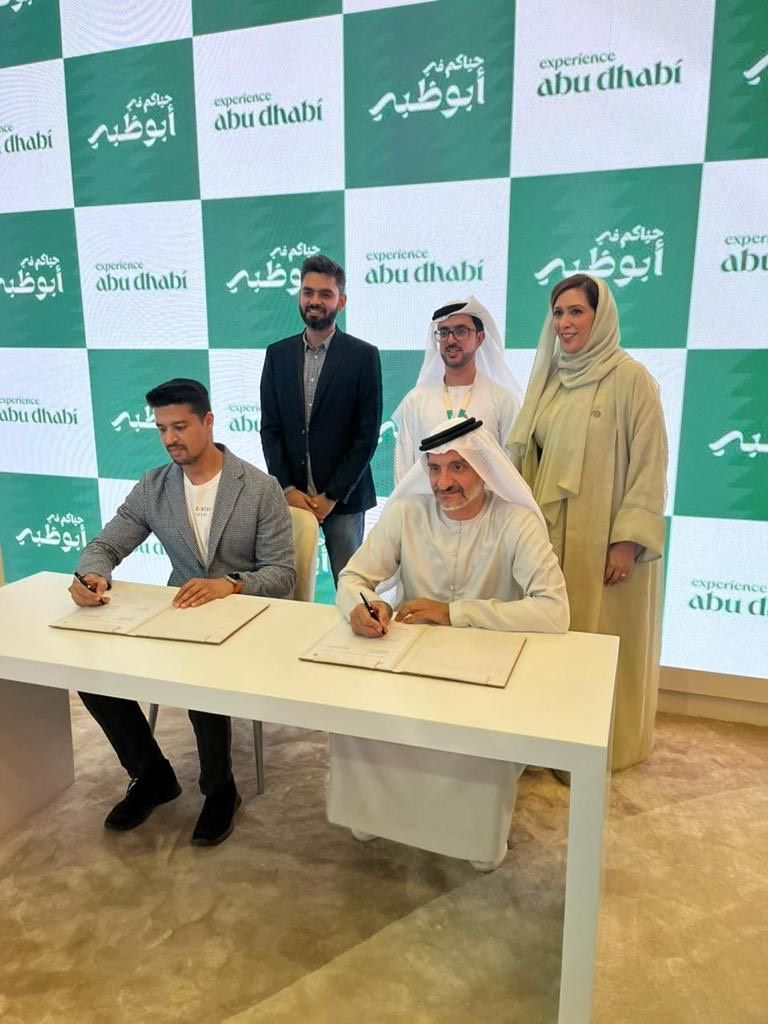 Developing unique and innovative products:
With a deep understanding of its audience, Thrillophilia plans to curate and offer 50+ travel packages and itineraries to promote Abu Dhabi as a standalone destination and as a complement to Dubai. These packages will cater to different types of travelers and their preferences, ranging from short stays to longer durations. The approach is focused on increasing the average length of stay of visitors in Abu Dhabi, and exploring the diverse range of experiences it offers.
Thrillophilia will create customized itineraries tailored for different types of travelers based on their location, interests, and budget. Family-friendly and kid-friendly itineraries will emphasize theme parks, indoor attractions, and museums. Honeymoon itineraries will offer top romantic experiences, while premium itineraries will include luxury accommodations, exclusive tours, and private transportation. For adventure seekers, offbeat itineraries will explore lesser-known destinations. In summary, personalized itineraries will provide customers with a range of options to suit their individual preferences and expectations.
Thrillophilia's weekend itineraries to Abu Dhabi from India will be the latest addition to the market, owing to the destination's convenient accessibility and affordable commute options.
Leveraging technology for seamless experiences:
Thrillophilia will leverage technology to provide a seamless travel experience to its customers. The company will offer various technological solutions, including easy booking and payment systems, itinerary planning, and trip management tools to ensure that customers can easily plan and manage their trips to Abu Dhabi.
Additionally, Thrillophilia will provide its customers with the flexibility to book experiences on the go. Travelers can customize their experiences by booking specific experiences during their trip, without having to book the entire package in one go. This level of customization will give customers more control over their travel experience and enable them to tailor their trips to their individual preferences and needs.
Effective marketing strategies:
By adopting effective marketing strategies such as targeted digital advertising, content marketing, and social media campaigns, Thrillophilia aims to reach its potential traveler base of over 50 million.
Performance Marketing: Targeted digital advertising will be a significant part of the campaign, with the company utilizing various online channels to reach its segmented customer base that has been curated from the past campaigns. This will include running display ads, search ads, and social media ads that are optimized to target specific audiences based on their demographics, interests, and behavior.
Content & Influencer Marketing: Thrillophilia will use content marketing to produce top-quality content in the form of blogs and videos that highlight Abu Dhabi's attractions and experiences. Additionally, Thrillophilia will conduct influencer marketing campaigns with local influencers who will create interest-specific content, contributing to the wider reach of the marketing campaigns.
SEO: Content made through various campaigns will be optimized for search engines to increase visibility and drive organic traffic to their website.
Data Sharing Partnership: Data partnership will also be a crucial component of the campaign. Thrillophilia will delve into the data and analyze the demand for Abu Dhabi from over 60 major cities in India, while monitoring which city is more likely to consume which type of experience. Based on this data-driven analysis, Thrillophilia will design specific product performance campaigns that target each city's preferences and demands in India.
Destination marketing solutions:
To drive more traffic and visibility, Thrillophilia will also utilize destination marketing strategies by positioning Abu Dhabi at key positions on its platform to drive more traffic and visibility.
With the Abu Dhabi Tourism Board's continued support and Thrillophilia's commitment to curating new and unique experiences for its travelers, the company aims to bring over 20,000 passengers to Abu Dhabi in 2023, surpassing its record of 15,000 passengers in 2022.