Thrillophilia has emerged as a trailblazer in the design vertical, not only within the travel niche but also in the broader design industry. This blog unveils the remarkable journey of Sparsh, the Creative Lead at Thrillophilia, who swiftly ascended from a learner Creative Designer to a leading Thrillophilia's Creative team in a mere span of two years. His story serves as an inspiring beacon, highlighting how passion, guidance, and the right opportunities can help someone achieve great success in their career.

Sparsh's journey into the design realm unfolded during his engineering days when his passion for design took an exciting detour. Engaging in the digital team of his college's student initiative, he experienced a shift from analyzing lines of code to immersing himself in the enchanting universe of design. This newfound exposure granted upon him a profound understanding of combining graphics, text and colors in crafting compelling and impactful designs It was this pivotal experience that sparked his journey into the vast domain of design, fueling his determination to explore endless possibilities and leave a lasting impact in the ever-evolving design landscape.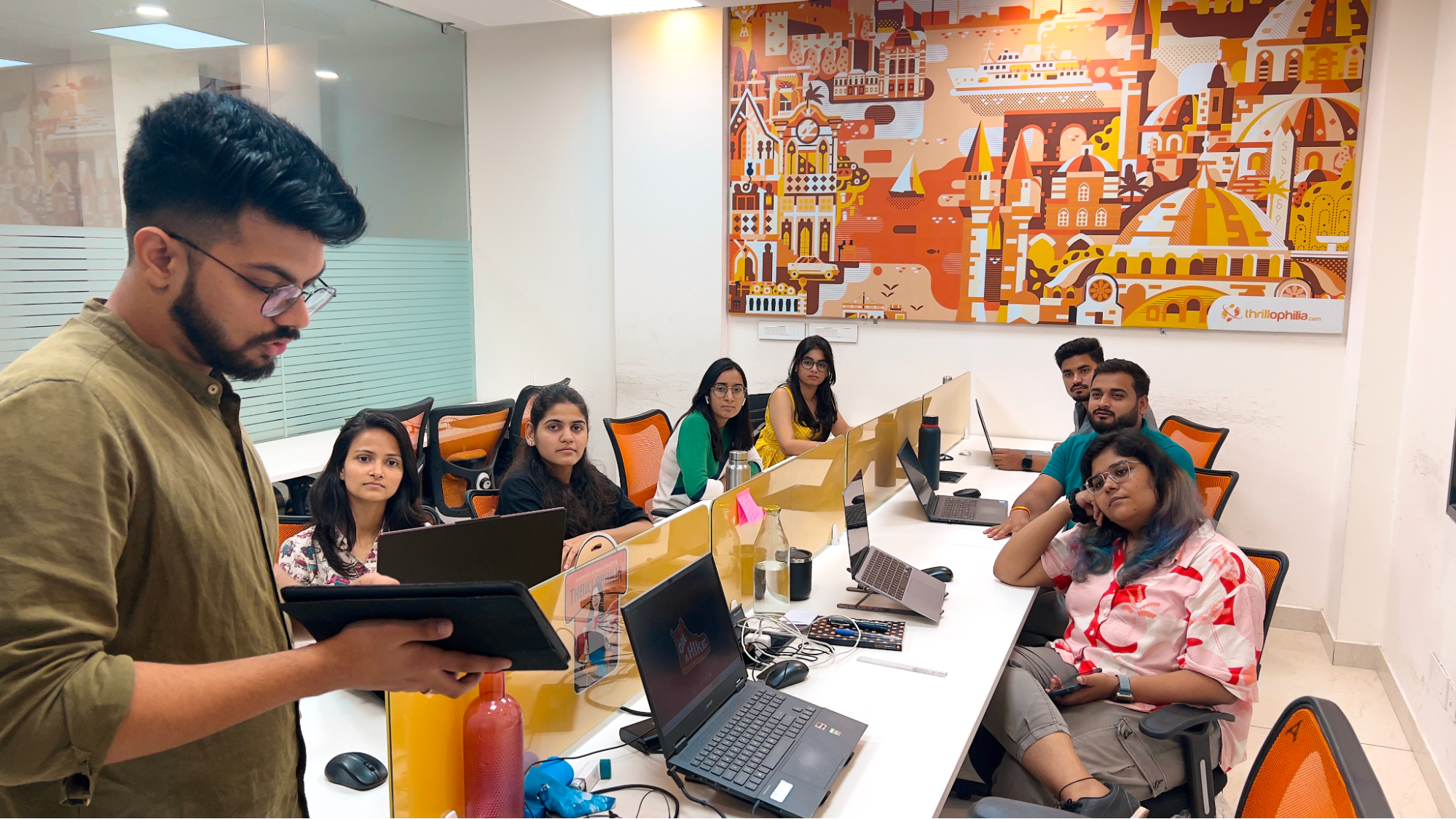 Sparsh embarked on his Thrillophilia adventure as a curious and enthusiastic newcomer in the role of Creative Designer. Over time, fueled by a thirst for knowledge and driven by a mix of challenges and triumphs, he skillfully evolved into the captain of a talented group of graphic designers. He credits his accomplishments to the collective efforts of his team and the unwavering guidance of a nurturing manager who has been by his side since day one.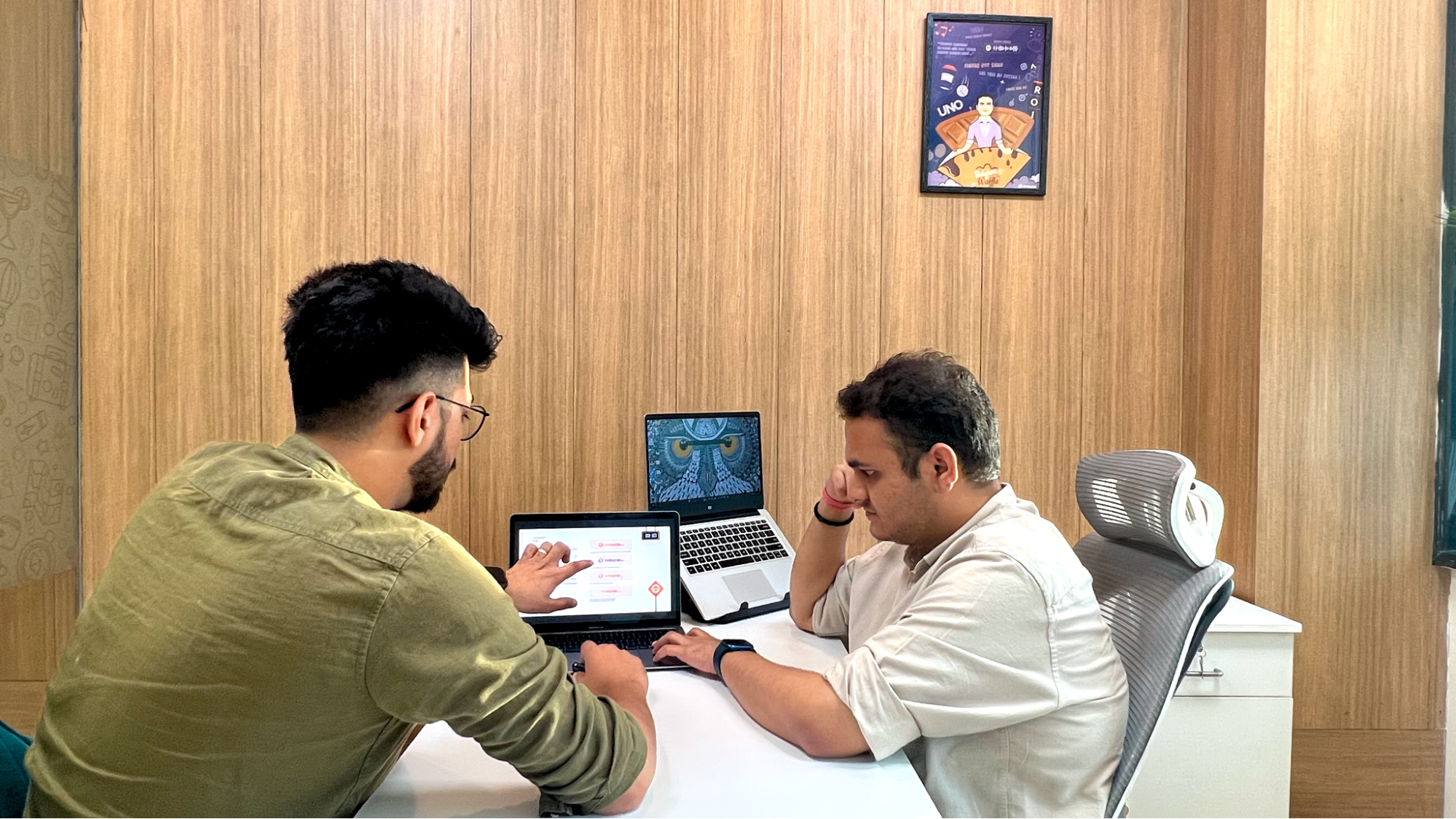 Thrillophilia's design team is a force of energy and vitality, continuously defying creative limits through their visionary thinking, state-of-the-art tools and boundless imagination. We firmly believe that our collective strength lies in fostering collaboration and embracing constructive feedback, which drives us to create extraordinary design experiences. Our team's unwavering commitment to disciplined craftsmanship and flawless teamwork, combined with our shared passion for collaborations, is the key to consistently creating eye-catching visuals. By infusing our core essence of thrill and adventure, we consistently deliver design that captivates and inspires.
Our creative environment is a place where designers can explore endless possibilities, allowing their creativity to flourish while maintaining open lines of communication. Sparsh experienced a significant milestone when he took on his first solo project, by leveraging his design expertise and conducting extensive research, Sparsh successfully revamped the Marketing Email Template, earning widespread acclaim for his efforts.
The success of the revamped Marketing Email Template not only brought recognition to his work but also unlocked doors to engaging and thrilling design projects. Thrillophilia places great value on acknowledging and celebrating the achievements of its designers, offering them platforms to showcase their skills on a grander stage. Sparsh's work demonstrated an incredible blend of creative thinking and skillful implementation, earning the company's trust in the creative abilities of its designers and igniting their drive and passion even more. This recognition and encouragement serves as an extra boost, inspiring them to reach even greater accomplishments and soar to new heights of success.

Sparsh experienced firsthand benefits of working closely with cross-functional teams, including software developers, marketers and content creators. This collaborative approach fosters a strong sense of fellowship, enabling designers to benefit from diverse viewpoints and valuable knowledge. Thrillophilia's emphasis on open communication, where ideas and feedback are not just welcomed but celebrated, promoting a culture of constant growth and progress.Moreover, by promoting collaboration, the company creates a supportive environment where designers can learn from each other, coming together to improve their design skills and knowledge as a team.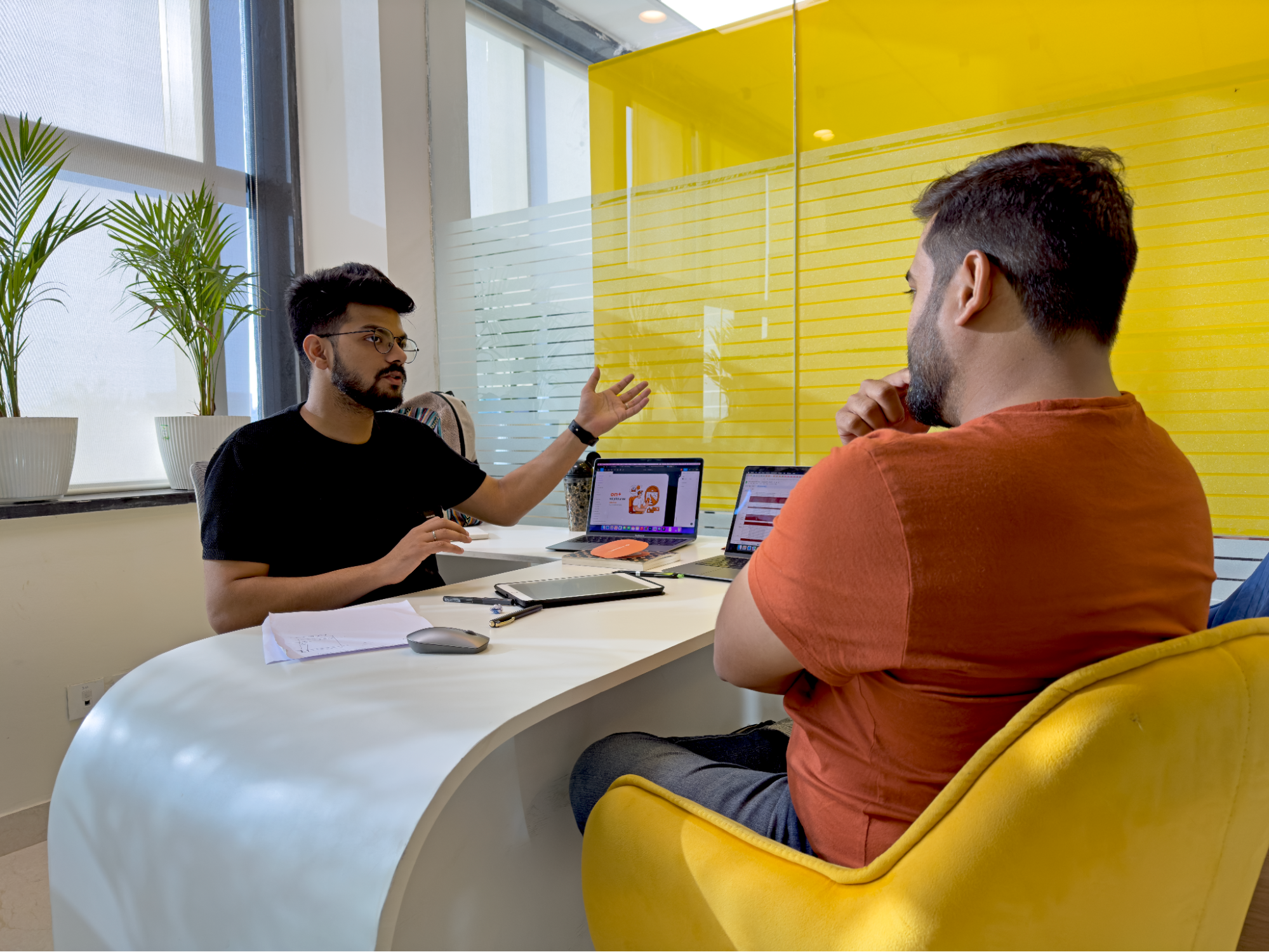 Therefore, Thrillophilia places great importance on nurturing effective communication within the design team. The company cultivates an environment of open dialogue and mutual respect, providing designers with the platform to effectively express their vision and contribute to the overall success of every project.

"From being a fresh-faced newcomer, I have had the privilege of growing alongside a team of exceptionally creative individuals. Our organization has experienced rapid growth, and I am grateful to have the opportunity of contributing to this journey. Together with my team, I envision a future where our company sets new industry standards with groundbreaking design solutions. Through meticulous design work, our goal is to craft designs that leave a lasting impression on the hearts and minds of our users.", quotes the design Lead.

Thriving in Thrillophilia's work culture, Sparsh embraced a strong learning attitude and an action- oriented mindset to achieving results. He enjoyed full ownership of his work and the liberty to explore diverse design styles. Thrillophilia provided the perfect platform and abundant resources to nurture his skills across various design domains.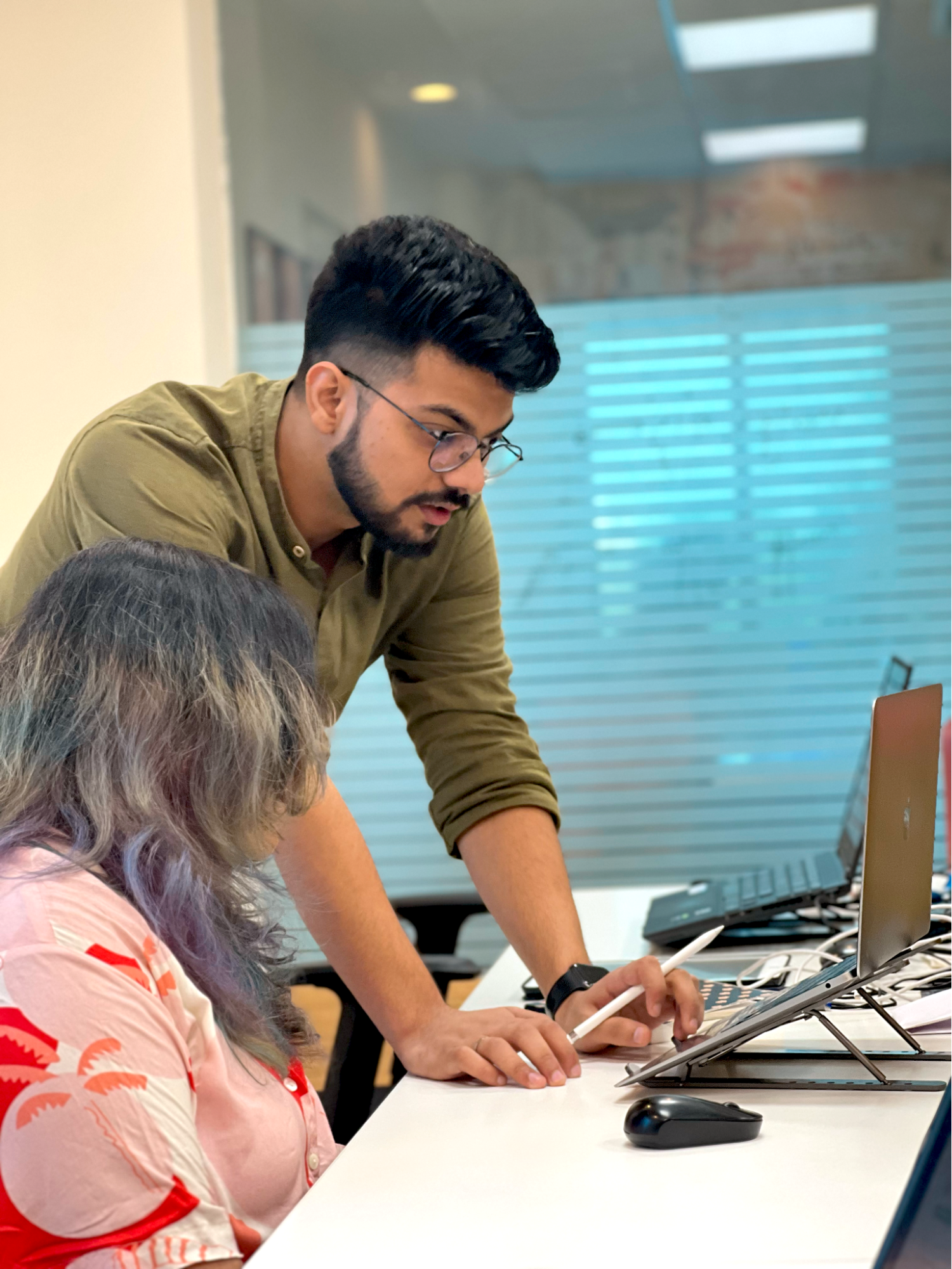 Regardless of whether he is tackling creative or analytical assignments, Sparsh consistently employs a research-driven approach to his work. Together with his team, he places great emphasis on task prioritization and strives to achieve exceptional outcomes. Working alongside a team of talented designers, Sparsh and his colleagues have also worked closely with the marketing team to strategize effective ways of showcasing Thrillophilia's products and services. Their seamless teamwork has resulted in exceptional designs that have played a crucial role in the organization's consistent growth year after year.

With his sights set on the future, Sparsh envisions establishing new standards in design, not only within the travel industry but across diverse sectors. Working alongside his team, he strives to redefine the experiential travel landscape by crafting innovative designs that deeply resonate with Thrillophilia's brand and audience. Embracing the spirit of creativity and collaboration, Sparsh is determined to push boundaries and create transformative experiences through his visionary designs. His aspiration is to leave an indelible mark, setting a new paradigm of excellence in the world of design and inspiring others to reach new heights of creativity and innovation.