Thrillophilia has an exceptional team of talented designers who skillfully handle design challenges every day with their well- advised expertise and creative ideas. Our designers play a vital role in bringing our innovative problem-solving approach to life. We highly value and appreciate their creative abilities, which drive us towards greater success. Their unwavering dedication to excellence sets us apart, and we are proud to have them on board.

Our creative designers embark on daily design adventures filled with fresh and exciting challenges. Collaborating closely with the marketing teams, they craft captivating and visually appealing designs that leave a lasting impact in this dynamic market. With a keen understanding of our customers' needs, the designers here work closely with the team to bring designs to life, surpassing expectations with their ingenuity.

"At Thrillophilia, we believe that design is the soul of our brand, and our designers are the heartbeat that keeps it pulsating with life". Get a chance to unleash your design talents as part of our dynamic team and be inspired by new horizons by collaborating with like-minded professionals.

We strongly believe that outstanding design goes beyond aesthetics. It involves confronting challenges and creating innovative and practical solutions. Therefore, our in- house designers embody this mindset by constantly seeking unconventional approaches to craft captivating and purposeful products and experiences.

What sets us apart at Thrillophilia is our thorough dedication to originality and innovation. Creativity is the foundation of our brand, and we encourage our designers to think beyond traditional boundaries. This environment allows our designers to freely explore new techniques and methods, resulting in thrilling and unconventional work. We believe in pushing limits and challenging norms, which fuels our drive for excellence in everything we undertake.

Thriving on unique challenges, our design team at Thrillophilia has recently revamped our office interiors. With their creative flair, they have mastered the art of designing office spaces that are truly captivating. Rather than using standard room numbers, we opted for a playful approach, drawing inspiration from the vibrant ambiance of popular travel destinations' airports.

Every detail has been meticulously curated to transport us to a world of adventure and excitement, igniting a sense of wanderlust and discovery. You will witness the exhilarating transformation of even the most mundane tasks into magical experiences. Our team's exceptional ability to infuse vision into every project is evident in the captivating curation we create.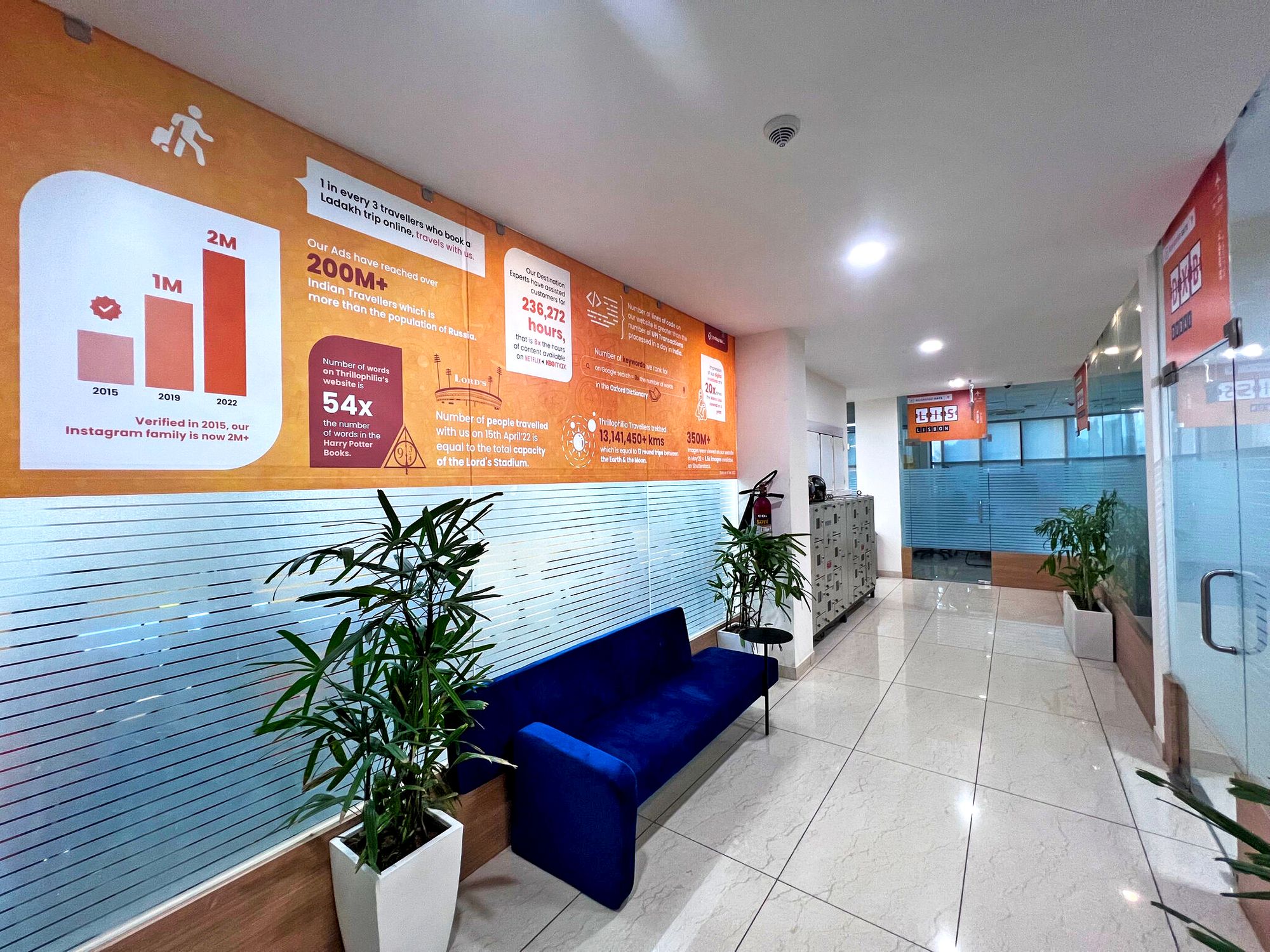 Walking through our office space, you will come across doors that have names like "Heathrow," "Istanbul," "Dubai"  and a host of other captivating destinations. Each room has its own ideal design elements that are reflective of the destination it represents.

For instance, the Heathrow room captures the quintessential British vibe, adorned with Union Jack flags and red telephone booth illustrations, whereas the Dubai room boasts minimalist designs and traditional Arabic-themed motifs, spotlighting iconic landmarks. We believe that every space in our work sphere should transport you to a world of enchantment, and our meticulously crafted office rooms are no exception.

The team also goes beyond office spaces to create personalised gifts and rewards for our staff members. We take pride in understanding their unique preferences and crafting bespoke designs that deeply resonate with each individual. This fosters an inclusive and closely-knit work environment, cultivating a sense of community and camaraderie among our employees. As design freshers, you'll experience the excitement of curating distinctive designs that not only boost morale but also reinforce our values of empathy, creativity and innovation.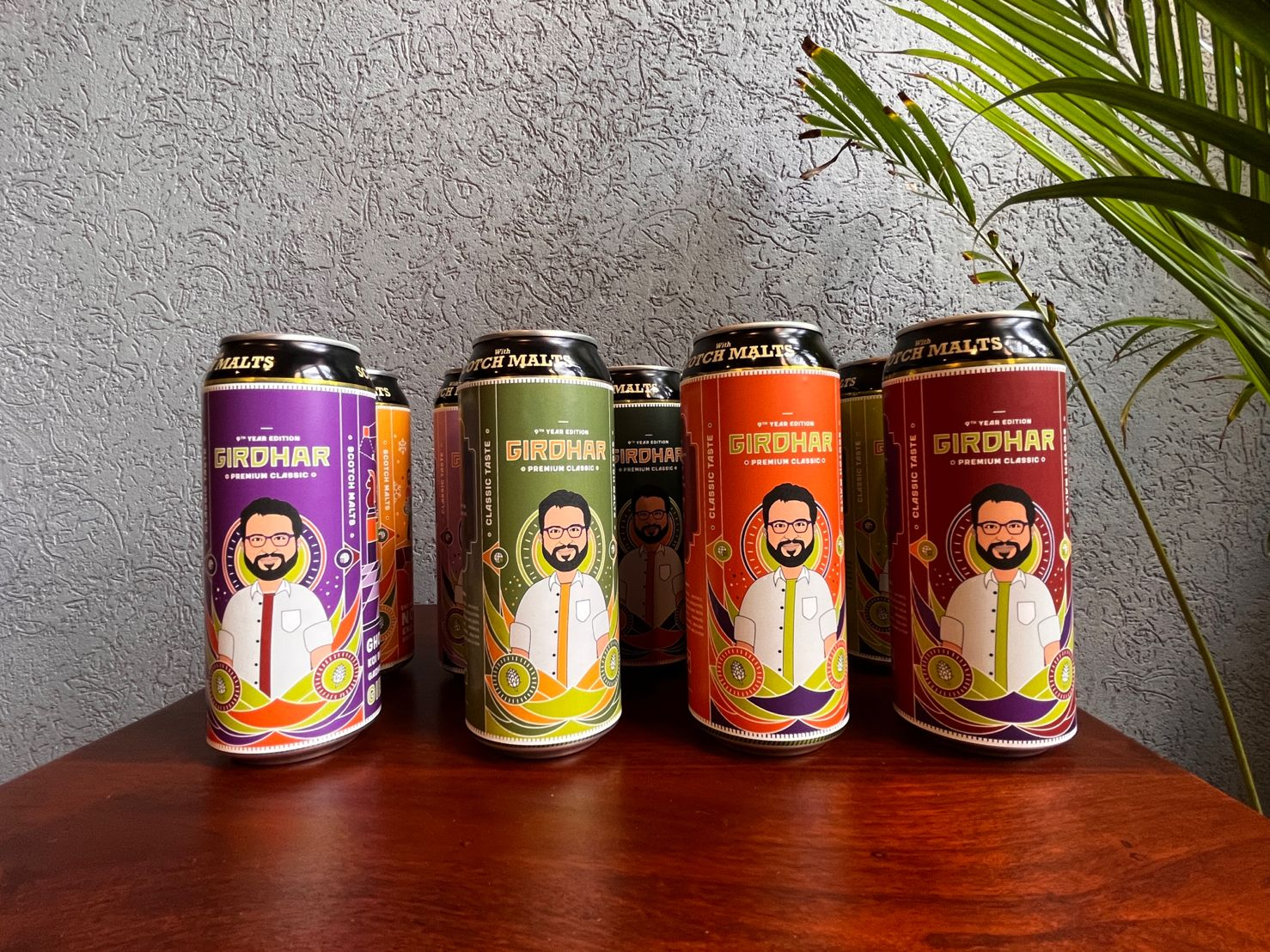 We embarked on another remarkable design project to celebrate our SEO manager, Girdhar's ninth work anniversary. Our dedicated team of designers worked tirelessly to create nine unique beer can designs, incorporating Girdhar's personal preferences and interests.

In addition, we organised a treasure hunt game that revisited cherished moments from his nine-year journey with our organisation. The result was an unforgettable experience, described by Girdhar as "the most memorable day of my life." This extraordinary project reaffirmed our commitment to innovation and originality, underscoring the value of personalised designs.

Our approach is a dynamic that involves gathering inspiration from various sources, including websites and other design references. The designers then infuse their own creativity to develop innovative and quirky designs that stand out. We firmly believe that exceptional ideas are born from collaborative efforts, thus we regularly hold brainstorming sessions to foster teamwork and develop novel and innovative design concepts. In addition, we host design conferences and workshops to stay updated on the latest industry trends and techniques, guaranteeing that our designs remain at the forefront of innovation.

At the core of our design philosophy is a deep understanding of our target audience's desires and preferences. Our skilled designers engage in thorough research and analysis to identify significant industry trends and patterns. By proactively staying ahead of emerging trends and comprehensively understanding company preferences, we are able to create designs that consistently surpass expectations.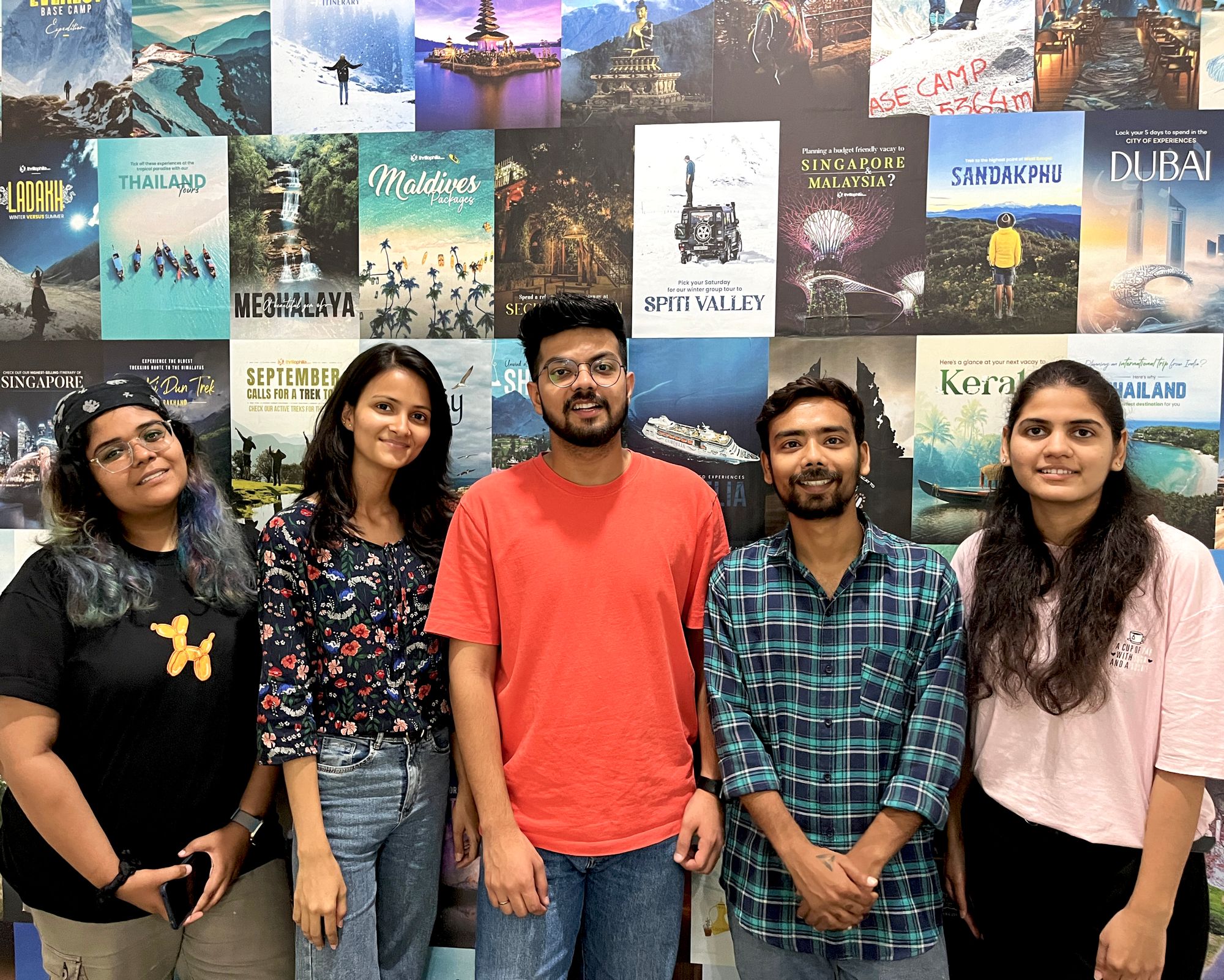 Additionally, our team at Thrillophilia approaches their work with a dedicated focus on excellence and a relentless drive to push the limits of creativity. They continuously strive for improvement, actively seeking new techniques and fresh perspectives to enhance their skills. Equipped with a wide range of tools such as Adobe Photoshop, Illustrator, InDesign, and Sketch,Figma, After Effects, Premiere Pro etc. our designers skillfully create masterful designs that make a lasting impact.
Our designers possess a remarkable blend of technical expertise and innate aesthetic sensibility. They have a deep understanding of fundamental design principles such as composition, colour theory and typography. Each design is thoughtfully crafted to achieve a harmonious balance between form and function, ensuring that the end product is visually striking and highly effective.
Therefore, here at Thrillophilia, we prioritise creativity and innovation as the cornerstone of our values. We encourage our designers to challenge conventional thinking and explore uncharted territories of imagination. Our design team consistently pushes their boundaries and exceeds perceived limitations because, to us, creativity is not just a tool but a way of life.