In 2021, Thrillophilia and Abu Dhabi collaborated on a joint marketing campaign to promote Abu Dhabi as a stand alone vacation destination for Indian travelers.
Problem statement:
Abu Dhabi had an abundance of unique and diverse experiences including a rich cultural heritage, stunning architecture, attractions, waterparks, adventure activities, art, gourmet dining options, and other immersive experiences that were largely undiscovered by Indian travelers. 60% of the travelers from India were typically spending four days in Dubai and only one or two days in Abu Dhabi as per Thrillophilia's data.
Solutions:
Thrillophilia focused on addressing this issue through its destination marketing solutions, which involved extensive tech  and marketing initiatives aimed at promoting these experiences and generating widespread awareness within the Indian market.
Content Creation:
As part of its Joint Marketing Program with Abu Dhabi, Thrillophilia utilized its strength in content creation to showcase more than 50 unique experiences in Abu Dhabi across various themes such as attractions, adventure activities, art & culture, city tours, gourmet, and more. To further enhance this effort and generate more engaging content that resonates with Indian travelers, a team of local influencers was sent to Abu Dhabi to create interactive and immersive content, focusing on the various themes.
Alongside, Thrillophilia also curated and published over 30 articles on its website, highlighting the diverse offerings of Abu Dhabi. These articles included SEO-optimized titles such as "Desert Experiences in Abu Dhabi" and "5 Places to Take Your Kids on Summer Vacation," with the aim of educating and informing the audience about the diversity of experiences available in Abu Dhabi.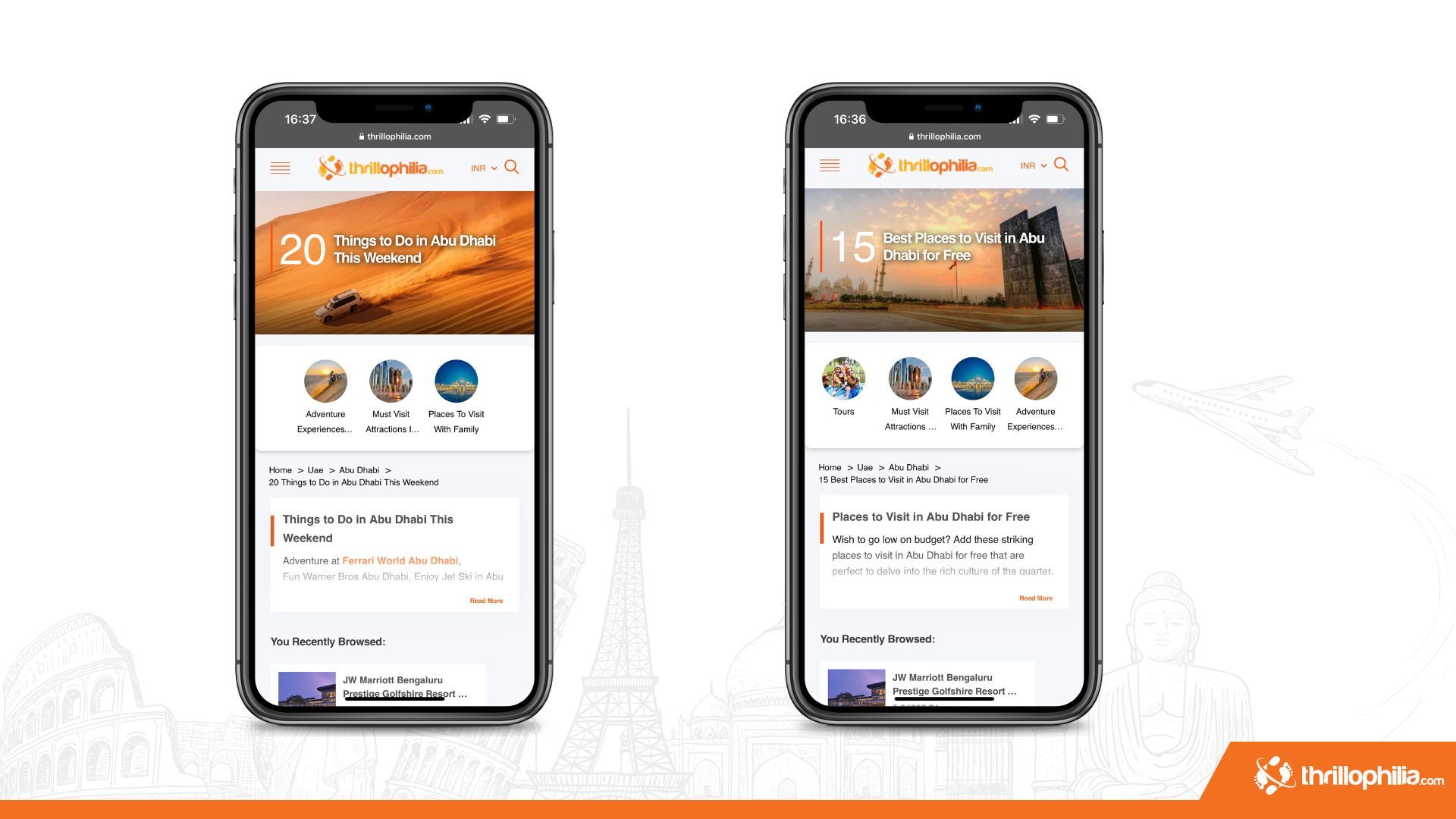 Content Marketing and Distribution:
Thrillophilia used a multi-faceted approach including Content Marketing, Social Media Marketing, Influencer Marketing as well as Performance Marketing, to increase awareness of Abu Dhabi's diverse offerings. It utilized its own social media audience of 2 million followers and collaborated with influencers who collectively had an outreach of 18 million, to promote the diverse range of experiences available in Abu Dhabi.
To attract potential customers to Abu Dhabi, a programmatic  advertising approach was used. This involved placing media  ads across different destinations like Dubai, Israel, Singapore and Egypt.
Additionally, remarketing ads were run on Google and Facebook to reach travelers who were interested in short-haul destinations, those who planned to book an international trip soon.
The homepage of Thrillophilia  was also strategically utilized to increase visibility and attract over 200,000 monthly visitors to Abu Dhabi. Through these methods, relevant traffic was driven to Abu Dhabi content pages, helping to increase awareness of diverse experiences.
Moreover, strategic and creative newsletters and whatsapp messages were sent to a niche audience of 5 million who have traveled with Thrillophilia in the past and always looked for new experiences and destinations and travelers who have shown interest in traveling internationally with Thrillophilia.
The content was also strategically planned to appeal to various types of travelers, such as honeymoon couples, bachelors, families, and the affluent class. With this multi-pronged approach, Thrillophilia was able to increase awareness of Abu Dhabi and attract more travelers to the destination.
Results:
Under the 2021 campaign, Thrillophilia achieved an overall reach of 30 million through its marketing strategies, surpassing the planned 24 million reach. The content created during this campaign also gets organic reach of around 1 million reach every quarter, making it an immensely successful campaign.