Back in 2017, a seed was sown for Thrillophilia's partnership journey. It was with a campaign for GoPro India, which by the way, is still going strong. Fast forward to today, this fireball of a team is just 3 years old and yet, they have helped Thrillophilia collaborate with 50+ fabulous Indian and international brands. Some of these partnerships include brands like Corona India, KTM India, and tourism boards such as MP, Karnataka, Bihar tourism, as well as Saudi Arabia, Thailand, Dubai Tourism, and many others. Packed with a hunger for tapping into diverse global markets, the team is currently a rocketship that is just taking off for the stars.
We spoke with Abhishek Puri, Thrillophilia's VP-Growth to talk about life at Thrillophilia for him and his team.

Our roller coaster journey
Our journey has been a roller coaster ride, full of delightful highs but also a lot of overcoming challenges. When it all started, I was single-handedly managing everything from onboarding partners to executing the campaigns with the co-founder, Abhishek Daga. Back then, the breakthrough partnership for Thrillophilia was with GoPro India, which led us to build and manage the GoPro Passport community of over 15,000 content creators.
But It was only a year back, in the middle of a global pandemic, that we realised the true potential of Thrillophilia's brand solutions. In April 2020, we collaborated with Corona India for a 'resort & relief' program during the most critical low witnessed by the travel industry. We built a campaign around "book now, travel later", thus helping homestays and boutique resorts with a cash flow when there was none in the market. This partnership picked up quickly and effectively, becoming one of the finest campaigns ever executed in the Indian travel industry, garnering 10 Million views. By its culmination, we had closed 5000 room nights through partner collaborations, digital campaigns, and tremendous support from our travel community.
Soon after, we secured partnerships with many more brands, including KTM & Bosch. Both were aimed at revolutionising the crossroads where travel & automobiles meet. With KTM, we teamed up to transform adventure for the biker community, through KTM Adventure Getaways. This year-long campaign is aimed at taking over 1000 bikers on riding adventures across the diverse terrains of India. For firsthand promotion, bikers will explore Ladakh, MP, and Rajasthan on KTM's newly launched adventure automobile, the KTM 390 Adventure.
Whereas, with Bosch, we have brought a brand-new automobile technology to India which integrates nearby experiences and destinations in your car real-time using the AdernoX app. With this app installed, you can discover, book, and explore the nearby attractions and experiences in your Mahindra XUV700 while on the road. Talk about thrilling new experiments with work!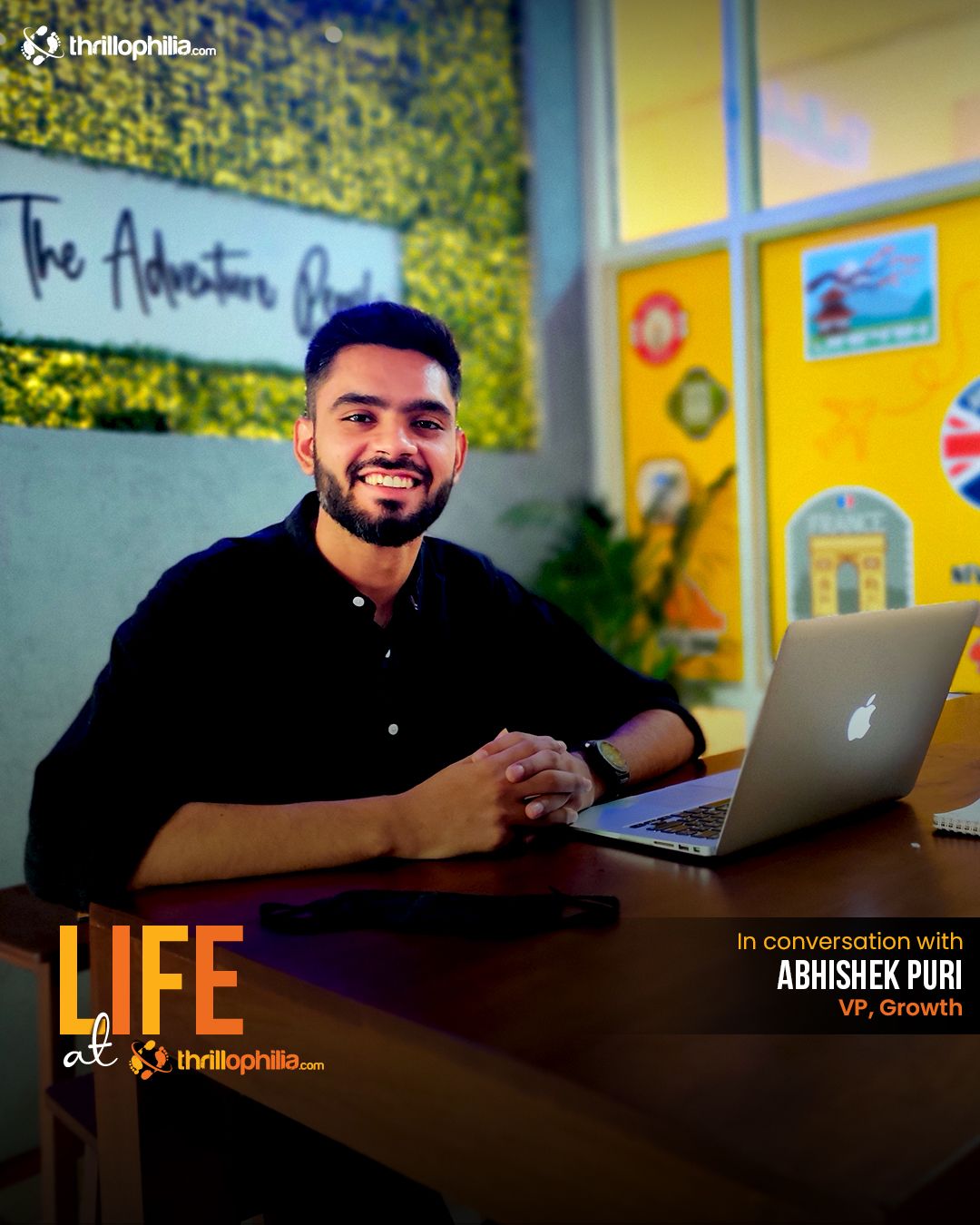 We make it work, and how!
Showing up valiantly for hurdle after hurdle, the team has evolved tremendously. Today, we offer 360-degree solutions to our partners, leveraging expertise from the diverse teams at Thrillophilia. Our solutions start right from content research and creation to on-ground expertise, listing and tech integration, loyalty programs and finally, digital marketing amplification and excellent customer experience.
As a team, we're a bunch of highly driven and passionate people who like upping their game with each coming project. We also take pride in offering the finest tech solutions to our partners and try to do new things every day. Some of our tech executions include engagement building and retention, gamification of products, reward programs for users, integration of partner microsites on our platform of 84 million users, bringing exclusive experiences with a booking engine, executing API integrations, and customer lifecycle automation. On-ground as well, we have a team of over 50 outdoor experts across 20 Indian cities. We work closely with our outdoor expert team to deliver brand-exclusive on-ground experiences in partnerships.
Naturally, each new project brings with it a different ballgame, so we adapt and create something entirely new that suits the partner the most. Therein lies the essence of our high-spirited and diligent partnership team.
Living the fast life
Diving deeper into this underlying essence that I'm talking about, we sure do have fun with what we do.
As a leader, I encourage my team to dedicate themselves to hustle and smart work. Our work is challenging on nine out of ten days, and diverse problems emerge every day. So it becomes crucial to step out of the box and find ways to get your deliverables right with more efficiency. Let alone stepping out of the box, I usually prepare my team to just pitch a tent there. After all, we have to be constantly thinking in terms of how we can create more value for our partner.
When it comes to everyday things, our typical workday goes into problem-solving, since every partnership has different deliverables. We work fast and hard, performing countless ideations, communicating with more and more people to understand the market and how we can intervene and add something of value, and so on. Last but not least, we also have to take a lot of work trips! From meeting a partner who is based out of a different city to working in destinations for partner onboarding, and more, you can look forward to hitching the road for wonderful new work adventures.
Further up we go
As Thrillophilia escalates further up the grid, the partnership team is on the rise too. In just the last year, our team has grown from a single person to a family of six, and we're still happily inviting more smart and energetic folks to join the party.
When I talk about the projects that are lined up for us in the near future, our fantastic partnership with Saudi Arabia comes to my mind. We're helping the country's tourism board meet their 2030 tourism goals through smart tech solutions. Simultaneously, we're building a base with a few automobile brands, crypto companies, as well as domestic and international tourism boards. Looking at the canvas that lies in front of us, we're all thoroughly keen on filling it with vibrant ideas and exemplary digital and branding campaigns.
So, as we dive headfirst into challenging but exciting partnership goals and revenue generation, we're looking for creative and smart problem-solvers to join our team. There are openings in the partnership team for digital account managers and strategic managers. We're looking for enthusiastic folks who can take a dynamic approach and solve new problems, ace complex deliverables, manage content, and most importantly, push the team further up by taking ownership and delivering excellence.
Sounds like your kind of hustle? Cheers! Write to partnershipteam@thrillophilia.com and let's take it from there!